Fire Evacuation Plans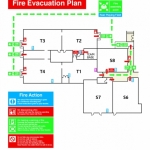 Fire Evacuation Plans, Fire Escape Plans and Fire Assembly Plans Professionally produced by Location Maps Limited.
Fire and Safety Regulations: Location Maps have the experience and expertise to create evacuation plans to comply with current regulation. Clearly showing all fire exits and accessible routes, our Fire Evacuation Plans are colour coordinated and user-friendly. Can include more intricate information regarding emergency evacuation routes as determined by the UK Fire Services, and are a natural addition to our Floor Plan Range.
Fire Evacuation Plans designed to be situated at both floor and individual room level, Location Maps Ltd Fire Evacuation Plans provide that extra step to ensure your pupils, visitors, employees and staff alike are safe.
Fire Evacuation Plans can be provided as print ready files, laminated prints, or for more durability and professionalism printed on acrylic display panels or anti tamper proof wall mounted frames.  These plans are important and can save lives –

The safest risk is the one you didn't take.