Sustainable Modes of Transport Plan for Schools & Colleges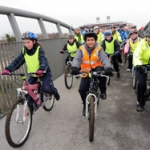 Introduction- Case Study Thurrock Council and Trafford Metropolitan B C –
Sustainable Modes of Transport for Schools & Colleges
Location Maps Limited worked closely with the respective school travel plan officer and the Road Safety for Schools Team, to produce in printed format a Strategy document providing details of the safe and sustainable modes of travel available to parents and pupils.
With increasing concerns around road safety at schools and to improve health in young people, both in terms of inactive lifestyles and the effect on air quality and climate change and in line with Government requirements  Location Maps were proud  to win this project (against stiff competition)  and work with Thurrock Council  on this very worthwhile and valuable project.
School travel plans: We created a leaflet for each School within Thurrock to show how the school intend to make travel to and from their sites safer and more sustainable for pupils, parents and teachers.
Travel Plans are an important tool in reducing the number of pupils who travel to school by car, thus easing congestion in and around the school area, improving the local community environment. Every School Travel Plan is different and site/location specific.
For more information or to view a specific Schools Travel Plan please contact us and request a copy of the relevant school.  We are happy to speak to your Schools Travel Plan Coordinator and offer a competitive quotation.
Look forward to hearing from you : Contact us here