Floor plans colour co-ordinated and created from any architects plan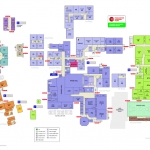 Floor plans for Schools, Colleges, Universities, Academies, Hospitals and General Business created from any architects plan.
Location Maps colour co-ordinated floor plans for schools and business are easy to follow and help users to effectively move around buildings and locate fire exits, assembly points and disabled access routes.
Location Maps Ltd create user-friendly colour co-ordinated Floor Plan sets from the messiest of architect plans or from a full on site survey or partial data gathering survey to capture missing information. Floor Plans offer a bespoke 2D artwork supplied as a base file for you to overlay and annotate yourself if required. Floor plans for schools can be printed in an attractive way finding leaflet, supplied as print ready re-sized files for insertion into your student handbooks and other publications.
Floor Plans for hospitals and Corridor Plans ensure visitors and patients move fluently through complex buildings. We simplify complex architects plans into user-friendly easy to follow directional finding aides.
The application of our Floor Plans for business can be used for exhibition purposes, conference and special events directing delegates to your show hall effectively and efficiently.
Location Maps  also produce Exhibition Event and Conference Floor Plans with on-line presentation format for an interactive delivery. Request more information here.