PCT Corridor Plan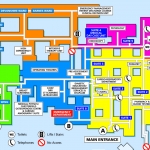 Hospital Corridor Plans  for the Health Care Sector, Hospitals, Private Clinics,  NHS Trusts and PCT
Hospital Corridor Plans produced by Location Maps Ltd colour co-ordinated corridor plans are easy to follow and help visitors effectively move around hospital buildings. Locating all public facilities, fire exits, assembly points and disabled access routes.
Our experienced way finding designers unravel the confusing detail to produce a clear set of visual instructions displayed as a 'you are here' site plan often located at car park pay points.
Supported by further wayfinding prompts via corresponding external and internal signage.