2D Pictorial Site Plan for Parks and Gardens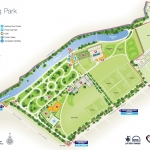 2D Pictorial Site Plan for Parks and Gardens
Location Maps Limited transforms your site into a beautiful versatile piece of artwork for insertion into your own information leaflets or we can design and produce print ready leaflets for you.
Case history:  Barking Park
We created this artwork in various formats for use in printed information leaflets, re-sized for large external signage dotted round the park with 'you are here' location arrows.
Interactive Site Plan for website display and e-book delivery via email.