Interactive Site Plans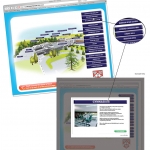 Interactive Site Plan, Floor Plan, Campus Map, Estate Plan and Aerial Photography.
Location Maps: Hot Spotted Site Plan application: offers an Interactive  web based facility whereby buildings are animated, so visitors can envisage the layout of individual rooms and floors.
The interactive facility can include photographs, video streams, illustrative impressions of rooms, floors and corridors. This facility offers flexibility for a wide variety of uses including depiction of new builds, way finding and is a great marketing tool.  Carr Hill School is an example of a wayfinding application with added room information, with video footage of children playing music in the art room. We can create interactive tours using any base : be it a map, floor plan, aerial photography or one of our 2D or 3D site plans. We do not use flash plug ins, this is a versatile application which delivers information fast via a web site – email link or word document.
 For more examples please request here and we will send you a link to view.